BEMUSE #030 – 06.03.2022
00:56   The Waltz – Schadenfreude
2022 * BEL * Labelman * 'Looking-Glass Self' lp
buy & listen on bandcamp
05:56   Embers – Wellness Kun
2021 * BEL * Wool-E Discs * 'Embers/Dear Deer' split 12"
buy & listen on bandcamp
10:45   ECHT! – 500 gr.
2021 * BEL * Sdban Ultra * 'INWANE' lp
buy & listen on bandcamp
14:39   Distant Fires Burning – Inperspectycon [He Can Jog's Second Book of Regeneration]
2022 * BEL * Audiobulb Records * digital track
buy & listen on bandcamp
23:40   Blitzzega – Ilona Marchesi
2019 * BEL * Walhalla Records * 'Underground Wave Volume 6' lp
buy & listen on bandcamp
28:19   Lander & Adriaan – Biskolom Aloofkis
2022 * BEL * Marcel Records * digital track
buy & listen on bandcamp
33:26   The Fur – Yage
2021 * BEL * Kozmik Artifactz * 'Sonntag' lp
buy & listen on bandcamp
41:30   Hidrae – Schelvis
2020 * BEL * Appel Rekords * 'Hydraulic' cd
47:35   Nala Sinephro – Space 2
2021 * BEL * Warp * 'Space 1.8' lp
buy & listen on bandcamp
52:40   Proyecto Secreto – Ethiopian Gipsy
2020 * BEL * Zephyrus Records * 'Alto' lp
buy & listen on bandcamp
57:59   Frederik Croene – Cul de Sac I
2019 * BEL * cortizona * 'Cul de Sac' lp
buy & listen on bandcamp
BEMUSE #029 – 20.02.2022
00:54   Mindtrip – Headspace
2022 * BEL * Mindtrip * digital track
buy & listen on bandcamp
06:30   Hugs Of The Sky – Creature Up Your Feature
2022 * BEL * Wagonmaniac * digital track
buy & listen on bandcamp
10:23   Oliver Lake + Reggie Washington + DJ Grazzhoppa – Pre-Existing Conditions
2022 * USA/BEL * Jammin'colorS * digital track
buy & listen on bandcamp
14:20   Partikul – Goldmoon
2022 * BEL * Exit does not exist Records/Wagonmaniac * 'Related Memories' digital album
buy & listen on bandcamp
19:16   Glitterpaard – Turnstile Youth
2022 * BEL * Starman Records * digital track
buy & listen on bandcamp
25:01   Idealus Maximus – Loofbos
2022 * BEL * Polderrecords * digital track
buy & listen on bandcamp
31:20   Micado – Drink with Bach
2022 * BEL * Micado * 'One Week in Heaven' album
buy & listen on bandcamp
36:42   Collab Coalition – Water
2021 * BEL * 3079767 Records DK * 'Worlds' digital single
46:34   Overstuurd – World Sleep Tight
2022 * BEL * Overstuurd * digital track
49:13   RAPIDMAN – SLECHGAAN
2022 * BEL * Solidude Records * digital track
55:14   Ann Eysermans – Fuga For Four Diesel Locomotives And Harp
2022 * BEL * cortizona * 'For Trainspotters Only' lp
buy & listen on bandcamp
1:04:27   Black Flower – Deep Dive Down
2022 * BEL * Sdban Ultra * 'Magma' lp
buy & listen on bandcamp
1:12:14   Divided – Futures
2022 * BEL * Dunk!Records * digital track
buy & listen on bandcamp
1:16:51   Dirk Serries & Trösta – Tranquillitatis
2022 * BEL * Consouling Sounds * 'Island On The Moon' album
buy & listen on bandcamp
BEMUSE #028 – 06.02.2022
00:55   Mette Rasmussen & Pak Yan Lau – Gorogoro
2021 * DNK/BEL * Holiday Records * 'Traditional Noise' lp | buy & listen on bandcamp
06:09   Bestaansreden – Schavot
2020 * BEL * Bestaansreden * 'Galgendans' cassette | buy & listen on bandcamp
10:44   HAEMERS – P.O.L.
2021 * BEL * Wangedrag/Stadskanker * 'Onderwereld' lp | buy & listen on bandcamp
15:22   Bert Dockx – Palmares
2022 * BEL * Unday Records * digital track | buy & listen on bandcamp
22:42   Namid & Sondervan – Krotrok [Cirqle And Cyqle's Deep Fried Catmix]
2021 * BEL * Rotkat Records * 'Namid & Sondervan – Cirqle And Cyqle Remixes' digital ep | buy & listen on bandcamp
26:27   TUMC – Wooden Plastic
2021 * BEL * Je m'en fish * 'Isle Des Sponta/Wooden Plastic' 7" | buy & listen on bandcamp
31:51   Bernard Orchestar – Friture Havasi
2021 * BEL * Zephyrus Records * 'Friture Havasi/Le Cocek D'Anderlecht' 7" | buy & listen on bandcamp
35:43   Dave Martijn – OdysSea
2013 * BEL * Music Mania Records * 'OdysSea' lp | buy & listen on bandcamp
38:45   Slow Crush – Swivel
2021 * BEL * Quiet Panic Records/Church Road Records * 'HUSH' lp | buy & listen on bandcamp
44:11   Ishtembashtok – Noise Infiltrator
2021 * BEL * Ishtembashtok * 'Transylvanian Hangover' cassette | buy & listen on bandcamp
49:57   Fred Van Hove – Requiem for Che Guevara, Martin Luther King, John Fitzgerald and Robert Kennedy, Malcolm X [Live]
1969 * BEL/DEU/NLD * MPS Records * 'Requiem For Che Guevara, Martin Luther King, John Fitzgerald And Robert Kennedy, Malcolm X' album
BEMUSE #027 – 23.01.2022
00:55   Jon Doe One – Hepha
2021 * BEL * Esc.rec. * 'Sol Invictus' lp | buy/listen on bandcamp
09:15   De Beren Gieren – Gentse Leugentjes
2021 * BEL * Sdban Ultra * 'Less is Endless' 2xlp | buy/listen on bandcamp
15:18   Robin Verheyen – Part VI
2021 * BEL * W.E.R.F. Records * 'The Bach Riddles' 2xlp | buy/listen on bandcamp
20:29   Bram Weijters' Crazy Men – Transvested Express/Postaeolian Train Robbery
2021 * BEL * Sdban Ultra * 'The Return' lp | buy/listen on bandcamp
25:14   Karen Willems – signalen
2022 * BEL * Karen Willems * digital track | buy/listen on bandcamp
27:24   Reinhard & Reinhard – Moody Mosfet
2021 * BEL * Music For Dreams * 'Reinhard & Reinhard' lp | buy/listen on bandcamp
31:43   Vectrex – Visje
2022 * BEL * Marcel Records * digital track | buy/listen on bandcamp
40:51   Hands In Motion – Unison
2022 * BEL * Zephyrus Records * 'Dawn' lp | buy/listen on bandcamp
46:16   Koen De Bruyne – Observations
1978/2021 * BEL * Sdban Records * 'In Kluis [A Special Radio-TV Record – N°20]' lp | buy/listen on bandcamp
52:44   Halfgeleider – B-Wave 2021 [fragment]
2021 * BEL * Halfgeleider * digital track | buy/listen on bandcamp
57:28   NEVEL – 17 16 49 | Have A Safe Trip
2021 * BEL * NEVEL * digital track | buy/listen on bandcamp
1:08:12   Vidna Obmana – Streamers Of Stillness
1996/2021 * BEL * Zoharum * 'The River of Appearance [25th Anniversary Edit/Flower Box Wooden edit]' cd+cassette-boxset | buy/listen on bandcamp
BEMUSE #026 – 09.01.2022
2:16   H A S T – Photonic
2021 * BEL * Solidude Records * 'Ubi Sunt' ep
5:55   NEVEL – This Is Not A Kraut Song [Blue Smoke Mix]
2021 * BEL * Wool-E Tapes * digital track
9:51   Karen Willems & Jürgen Augusteyns – Wij waren eerst
2021 * BEL * bwaa. * 'Rapper!' cassette
12:55   Woolvs – Earth
2021 * BEL * Woolvs * 'Evening Planet' lp
18:14   Paul Van Gysegem Quintet – Brisk
2021 * BEL/CZE * el NEGOCITO Records * 'Square Talks' cd
23:45   VENTILATEUR – Onomatopee
2021 * BEL * sentimental * 'A Soundtrack For Happiness' cassette
26:11   Korneel Muylle – Hello Jesus
2021 * BEL * Korneel Muylle * digital track
30:15   KRANKLAND – Esperance #1
2021 * BEL * KRANKLAND * digital track
34:03   Anemic Cinema – Solenoid Creatures
2021 * BEL * el NEGOCITO Records * 'Anemic Cinema' lp
38:31   Machine Mass Sextet – ED
2021 * BEL/USA * Off Records * 'Intrusion' cd
45:03   Warped Dreamer – Golden Geek Award
2021 * BEL/NOR * Consouling Sounds * 'Live at Bimhuis' lp
52:09   Go March – Stampede
2021 * BEL * Dunk!Records * 'III' lp
59:00   Dachau David – War
2021 * BEL * Wool-E Tapes * 'WET050' 10xcassette box set
1:03:24   Joost Carpentier – D-Trax 2.0
2021 * BEL * Wool-E Tapes * 'WET050' 10xcassette box set
1:09:53   Eiland – Beyond Mind and Matter – A Spirit Odyssey [WET050 Edit]
2021 * BEL * Wool-E Tapes * 'WET050' 10xcassette box set
1:26:52   Rombouts & Watts – Reality
2021 * BEL/USA * Starman Records * 'Muted Songs For Piano' lp
1:31:36   Thamel – All Dramatics & Curiously
2021 * BEL * Thamel * 'Ballads In Plain Be Sharp E.P.' digital album
1:40:53   Reinhard Vanbergen – Trapezium
2021 * BEL * Sdban Records * 'Geometric Shapes [A Special Radio-TV Record – N° 19]' lp
1:45:28   Flat Earth Society – Moog For You
2021 * BEL * Igloo Records * 'Boggamasta III' 2xlp
1:51:03   Don Kapot – Chinese Cows
2021 * BEL * W.E.R.F. Records * 'Hooligan' lp
1:56:18   Kosmo Sound – Teddy Dub [Christopher Lonneville Remix]
2021 * BEL * Zephyrus Records * digital track
2:00:12   Silent Noise Revolution – Skin To Skin
2021 * BEL * Belgian NeuMusik * 'INSIDES' lp
2:04:23   Namid & Sondervan – Swing NRV
2021 * BEL * Rotkat Records * 'Namid & Sondervan' lp
2:08:08   PAARD. – Maurice
2021 * BEL * W.E.R.F. Records * 'danki' lp
2:12:09   The Lake – Eisem Boot [Jungle Version]
2021 * BEL * WeZienWel Records * digital track
2:17:59   Azmari – Kugler
2021 * BEL * Sdban Ultra * 'Samā'ī' lp
2:23:11   O Veux – The Game
2021 * BEL * DIY * 'More Games [40 Years Anniversary Album' cd+12"
2:26:18   Zool. – Hampstead
2021 * BEL * Belgian NeuMusik * 'The Time Remaining' lp
2:31:16   Myrddin – Djura
2021 * BEL * Zephyrus Records * 'Monstruos y Duendes Vol. 3 : Médyn' lp
2:37:20   Baruch Williamson – Didgeriradioo Synthesis
2021 * BEL * Wagonmaniac * 'Satellite of Love and Rhizomes' digital album
2:44:13   Tukan – Boréal
2021 * BEL * Tukan * 'Tukan' 12"
2:49:26   Distant Fires Burning – Book Of Closure
2021 * BEL * Audiobulb Records * 'Inperspectycon Vol.1' cd
2:59:47   Pierre Vervloesem – Route 65
2021 * BEL * Off * 'Flambant Neuf' cd
3:07:30   Lucid Lucia – Stuck In The Well
2021 * BEL * Sdban Ultra * 'Lucid Lucia' ep
3:11:42   L. Jacobs – Emoji In Limbo
2021 * BEL * les albums claus/W.E.R.F. Records * 'Enthusiasm' lp
3:17:08   Rapidman – Gafanoto
2021 * BEL * Solidude Records * digital track
3:21:52   John Ghost – Black Chamber [Escape To The Sun]
2021 * BEL/NLD * Sdban Ultra * 'Black Chamber (Escape To The Sun)' 12"
3:28:46   Ben Bertrand – The Aurae Loops
2021 * BEL * les albums claus * 'Dokkaebi' lp
3:34:20   Philippe de Chaffoy – Lockdown Escape
2021 * BEL * Hara Produkties * 'Bisharas' cassette
3:39:39   Dishwasher_ – Home Cinema
2021 * BEL * Dishwasher_ * digital track
3:44:49   De Regering Van Treffelijke Zaken – Assetasse
2021 * BEL * De Regering Van Treffelijke Zaken * 'Hara Jamar' digital album
BEMUSE #025 – 26.12.2021
00:54   Anti-Panopticon – Pillars And Gyrations II [Scherzo]
2020 * BEL/NLD * SoulFactory Records * 'Channeling the Flood' cd
03:20   Filip Gheysen – Saudade in a Bottle
2021 * BEL * Silken Tofu * 'The Passenger Disembarked' lp
13:12   Mattias De Craene – Gameboy Garden
2021 * BEL* W.E.R.F. Records * 'Patterns for (a) Film' 2xlp
22:41   Aka Moon – Beyond Lands
2020 * BEL/COG/PRT * Outhere Music * 'Opus 111' cd
29:47   Kaotec – Modular Data Fragments [live excerpt]
2021 * BEL * Kaotec * unreleased live recording
35:33   Anti-Panopticon – Coloring The Monochromatic Complexion
2020 * BEL/NLD * SoulFactory Records * 'Channeling the Flood' cd
43:33   Mòs Ensemble – Rind
2021 * BEL * W.E.R.F. Records * 'Behind The Marble' cd
48:35   Joris Van de Moortel/Bats – Chiroptera
2010 * BEL * Sonic Poet * 'Pats Boem Ping' lp
54:40   Smolikas – A Tree Walks Into A Bar
2021 * BEL * bwaa. * 'Smolikas/Thijs Troch Split' lp
59:47   Maris – Show Us Who to Talk to
2020 * BEL * W.E.R.F. Records * 'By Virtue Of The Absurd' lp
1:04:14   Flying Horseman – Landmark/Lament
2010/2021 * BEL * Conspiracy Records/Unday Records * 'Wild Eyes' lp
1:11:02   Anantakara – Behind Below And Above
2021 * BEL * Aural Films * 'Forgotten Key' digital album
1:20:56   Thijs Troch – Koren
2021 * BEL * bwaa. * 'Smolikas/Thijs Troch Split' lp
1:23:23   Muze Jazz Orchestra XL featuring Lennert Baerts – Actions Bound To Affect The Future
2020 * BEL * SoulFactory Records * 'Times Change And So Must We' cd
BEMUSE #024 – 12.12.2021
00:54   Vectrex – HS D
2021 * BEL * Marcel Records * 'Hype Suffocation E.P.'
07:24   wolf vanwymeersch – Fall From Grace
2021 * BEL * wolf vanwymeersch * 'Songs Of Light And Shade' digital album
12:32   Mólo Sâyat – Surfaton
2021 * LBN/BEL * Zephyrus Records * 'Hadaeq' lp
17:06   Julien Tassin – (A)Void
2021 * BEL * Julien Tassin * digital track
24:50   Gaïsha – Ghalat
2021 * BEL/MAR * Zephyrus Records * digital track
29:46   HIPPOTRAKTOR – Sons of Amesha
2021 * BEL * Pelagic Records * 'Meridian' album
35:34   Hemelbestormer – Portals IIII
2021 * BEL * Ván Records * 'Collide & Merge' 2xlp
40:44   Dries Geusens – Frümel
2021 * BEL * Dries Geusens * 'Selected Modular Works 2' digital album
49:55   Hellvete – Ode II [C-221]
2014 * BEL * De Gek * 'Ode' lp
1:08:23   De Regering Van Treffelijke Zaken – Assetasse
2021 * BEL * De Regering Van Treffelijke Zaken * 'Hara Jamar' digital album
1:14:59   Dishwasher_ – Home Cinema
2021 * BEL * Dishwasher_ * digital track
1:20:17   BySenses – CHROOM
2021 * BEL * BySenses * 'MonoCHROOM' album
BEMUSE #023 – 28.11.2021
Philippe de Chaffoy special
00:52   Philippe de Chaffoy – Pizzicato uit het ballet La belle et le Cochon
1999 * BEL * Philippe de Chaffoy * 'Piggies' cd
03:52   Philippe de Chaffoy – Marcia porce funebra
1999 * BEL * Philippe de Chaffoy * 'Piggies' cd
07:28   Philippe de Chaffoy – Burnt Sienna
1996 * BEL * Hara Produkties * 'Bisharas' cassette
18:47   Philippe de Chaffoy – Dina Dina
2008 * BEL * HAM vzw * 'Louis Paul Boon prijs 2008' compilation-cd
23:33   Philippe de Chaffoy – Power of Compassion
2008 * BEL * HAM vzw * 'Louis Paul Boon prijs 2008' compilation-cd
32:25   Philippe de Chaffoy – Knortechno, turboversie
1999 * BEL * Philippe de Chaffoy * 'Piggies' cd
38:06   Philippe de Chaffoy – Mataranka I
2008 * BEL * HAM vzw * 'Louis Paul Boon prijs 2008' compilation-cd
42:20   Philippe de Chaffoy – Spiegelerei
2008 * BEL * HAM vzw * 'Louis Paul Boon prijs 2008' compilation-cd
47:24   Philippe de Chaffoy – Harabis
1996 * BEL * Hara Produkties * 'Bisharas' cassette
50:34   Philippe de Chaffoy – See
2008 * BEL * HAM vzw * 'Louis Paul Boon prijs 2008' compilation-cd
55:45   Philippe de Chaffoy – Amdo
1998 * BEL * art4tibet1998.org * 'World Artists for Tibet' cd
1:07:39   Philippe de Chaffoy – Banket
2008 * BEL * HAM vzw * 'Louis Paul Boon prijs 2008' compilation-cd
1:09:02   Philippe de Chaffoy – Koeskoeskuiten
2008 * BEL * HAM vzw * 'Louis Paul Boon prijs 2008' compilation-cd
1:12:15   Philippe de Chaffoy – De breimachine
2008 * BEL * HAM vzw * 'Louis Paul Boon prijs 2008' compilation-cd
1:19:36   Philippe de Chaffoy – Lockdown Escape
1996 * BEL * Hara Produkties * 'Bisharas' cassette
1:27:11   Philippe de Chaffoy – Dead Water Music
1999 * BEL * Philippe de Chaffoy * 'Dead Water Music' cd
BEMUSE #022 – 14.11.2021
00:56   NEVEL – Ambient 1
2021 * BEL * NEVEL * unreleased track
07:27   Rapidman – Gafanoto
2021 * BEL * Solidude Records * digital track
12:29   Jean Hoyoux – La Marssivité
1982/2017 * BEL * cortizona * 'Planètes' 2xlp
20:59   The Groovecats Deluxe – Disco Spy
2020 * BEL * Heaven Hotel * 'Live at De Muze' 10"
25:02   The Shadow Machine – Thirst
2021 * BEL * The Shadow Machine * digital track
28:16   Wagonman + Blaastaal – Lesson 37
2021 * BEL * Wagonmaniac * 'Radio Centraal Sessies' 10"
35:24   Black Flower – O Fogo
2021 * BEL * Sdban * digital track
40:27   John Ghost VS Binkbeats – Black Chamber [Escape To The Sun]
2021 * BEL/NLD * Sdban Ultra * 'Black Chamber (Escape To The Sun)' 12"
47:28   Hydrom Line – Impression
1991/2021 * BEL * Wool-E Discs * 'Edition 2021' cd
51:49   Marcel Vanthilt – Als Ik Gust De Coster Was
1986/2020 * BEL * Walhalla Records * 'Underground Belgian Wave Volume 2' lp
56:03   Gust De Meyer – casiowork 1.1.4
1983/2015/2017 * BEL * Waving Hands Records/Ding Dong Records/JJ Funhouse * 'Casioworks' lp
1:01:22   George Hadow & Dirk Serries – Live At Groels Kapel [excerpt]
2021 * GBR/NLD/BEL * Creative Sources Recordings/A New Wave Of Jazz * 'Chapel' cd
1:06:49   Ben Bertrand – The Aurae Loops
2021 * BEL * les albums claus * 'Dokkaebi' lp
1:12:50   Red Stars Over Tokyo – Burning Houses
2016 * BEL * Testtoon * 'Deconstructing Happiness' lp
BEMUSE #021 – 31.10.2021
00:55   Pierre Vervloesem – Route 65 (2021 * BEL * Off * 'Flambant Neuf' cd)
08:56   Halfgeleider – Ges:Gesom (2021 * BEL * Halfgeleider * 'Gloed' cassette)
16:52   Sebastian Bradt – Barbiefication (2010 * BEL * Logos * ' Lonely Robots' cd)
19:31   Dino And The Chicks – Gimme Time My Love, Gimme Time (2020 * BEL * Heaven Hotel * 'The Hoboken E.P.' cd)
23:25   Mauro Pawlowski – What It Takes (2021 * BEL * Unday Records * 'Eternal Sunday Drive' lp)
27:21   Filip Gheysen – Tabletop Guitar III (2013 * BEL * Silken Tofu * 'Tabletop Guitar' cd+dvd)
32:06   Zool. – Wasteland (2021 * BEL * Belgian NeuMusik * 'The Time Remaining' cd)
35:55   The Horse Head Bed – Iommi (2020 * BEL * Heaven Hotel * 'Liquid Vinyl' cd)
38:30   Lucid Lucia – Stuck In The Well (2021 * BEL * Sdban Ultra * 'Lucid Lucia' ep)
42:52   w.ravenveer – ughs in space is the place lands of ra (2021 * BEL * w.ravenveer * 'fuzzy hair electronics volume 4' cassette)
51:21   Etat Brut – Hommes Nus (1981/2012 * BEL * Sub Rosa * 'Mutations et Prothèses' cd)
56:22   Daniel B. Prothèse – Elec+rOharmonie-Bir+h (2018 * BEL * Wool-E Tapes * 'CHZWaaR+ZMe+aaL' cassette)
1:01:35   Elko Blijweert – Ik Hoop Nog Steeds (2021 * BEL * Ultra Eczema * 'Prison Of The Mind' lp)
1:07:19   Distels – Lyke Wake Dirge (2021 * BEL * Almost Halloween Time Records/Feeding Tube Records * 'Distels' lp)
1:13:26   L. Jacobs – Emoji In Limbo (2021 * BEL * les albums claus/W.E.R.F. Records * 'Enthusiasm' lp)
1:19:07   Thamel – Cheval Bleu (2019 * BEL * Koridor Records * 'Prairie Blanche' lp)
1:23:26   BySenses – Le départ de Maman (2021 * BEL * BySenses * '5 Jours de Liberté' digital album)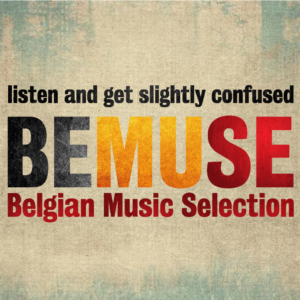 Welcome to BEMUSE – Belgian Music Selection, a biweekly radioshow in which you'll discover all kinds of music and sounds from Belgium that you've probably never heard before.
Expect to be surprised and hear some quirky and less obvious tracks. Some brand new ones, some from years or decades ago, but all of them worth to be heard.
Fasten seatbelts to enter the cabinet of Belgian musical curiosities…
With your host and guide Pablo Smet.