Wunderkammer #040 (03.01.2019)
[mixcloud width=100% height=120 hide_cover=1]https://www.mixcloud.com/witkonijn/wunderkammer-2018-aflevering-040-03012019/[/mixcloud]
00:20   Bert Dockx – Shadowplay
2018 * BEL * Unday Records * album 'Transit'
04:33   Low – Poor Sucker
2018 * USA * Sub Pop Records * album 'Double Negative'
07:57   Cass McCombs – Run Sister Run
2016 * USA * ANTI- * album 'Mangy Love'
14:01   Queens of the Stone Age – Run, Pig, Run
2007 * USA * Interscope Records * album 'Era Vulgaris'
18:41   Cocaine Piss – Treehouse [remix by DJohnDoe]
2018 * BEL * Hypertension * ep 'My Cake'
21:36   El Yunque – Googol
2018 * BEL * sentimental * album 'O Hi Mark'
30:23   Guy Van Nueten – Mijnheer X
2018 * BEL * Bolli Records/Music On Vinyl * album 'Contact'
33:15   Laibach – The Lonely Goatherd
2018 * SVN * Mute Artists * album 'The Sound of Music'
36:36   The Other People Place – It's Your Love
2001/2017 * GBR * Warp Records * album 'Lifestyles of the Laptop Café'
44:40   Oneohtrix Point Never – love in the time of lexapro
2018 * USA * Warp Records * 12" 'Love in the Time of Lexapro'
49:57   Les Negresses Vertes – Face à la Mer [Massive Attack remix]
1993/2018 * FRA * Because Music * album '10 Remixes [87-93]'
56:02   Bert Dockx – Sinnerman
2018 * BEL * Unday Records * album 'Transit'
Wunderkammer #039 (27.12.2018)
[mixcloud width=100% height=120 hide_cover=1]https://www.mixcloud.com/witkonijn/wunderkammer-2018-aflevering-039-27122018/[/mixcloud]
01:05   Condor Gruppe – House Of Kraut
2018 * BEL * Condor Men Records * album 'Interplanetary Travels'
07:00   Flying Horseman – Deep Earth
2018 * BEL * Unday Records * album 'Rooms/Ruins'
15:10   Bestiaal – XVI
2018 * BEL * Solidude Records * album 'Inenen'
18:47   Steiger – Berlin Revisited
2018 * BEL * Sdban Ultra * 10" 'And Above All'
27:44   Madensuyu – One More Time
2018 * BEL * Unday Records * album 'Current'
31:22   Statue – E
2018 * BEL * Fons Records * album 'Kasper'
36:12   Elefant – Norsun Miusti
2018 * BEL * 9000 Records/Consouling Sounds * album 'Konark und Bonark'
42:15   Future Old People Are Wizards – Face It You Darn Animal
2018 * BEL * 9000 Records/Consouling Sounds * album 'Peaces'
47:23   Bed Rugs – The Cunning
2018 * BEL * Waste My Records * album 'Hard Fun Grand Design'
49:48   Fär – Lethargy
2018 * BEL * Circuits * album 'Salute'
54:39   Poltrock – bromley
2018 * BEL * Poltrock Music/Excelsior Recordings * album 'moods'
1:01:16   The Antler King – Birds in Disguise
2018 * BEL * Sel/Sync Records * album 'Ten for a Bird'
1:05:41   Esinam – Electric Lady
2018 * BEL * sdban ultra * 10" 'Esinam'
1:09:25   Go March – Chop Chop
2018 * BEL * Yokozuna * album 'II'
1:18:49   Birds That Change Colour – Shaman's Apprentice Blues
2018 * BEL * Fons * album 'Nova Albion'
1:24:40   Razen – The Night Receptionist Part II
2018 * BEL * Meakusma * album 'The Night Receptionist Part I, II, III, IV.'
1:32:50   Beraadgeslagen – Elektroliefje
2018 * BEL * W.E.R.F. * album 'Duizeldorp'
1:37:00   Annelies Monseré – Happiness is within Sight
2018 * BEL * STROOM * album 'Happiness is within Sight'
Wunderkammer #038 (20.12.2018)
[mixcloud width=100% height=120 hide_cover=1]https://www.mixcloud.com/witkonijn/wunderkammer-2018-aflevering-038-20122018/[/mixcloud]
00:20   Carl Stone – Violence
1999 * USA * Felmay * album 'Exusiai'
06:18   Jesu / Sun Kil Moon – A Song Of Shadows
2016 * GBR/USA * Caldo Verde Records/Rough Trade Records * album 'Jesu / Sun Kil Moon'
12:30   The Fiery Furnaces – South Is Only A Home
2003 * USA * Rough Trade Records * album 'Gallowsbird's Bark'
15:44   Mario Batkovic – Restrictus
2017 * BIH/CHE * Invada Records * album 'Mario Batkovic'
23:25   The Wrong Object – Wedding Dress Song | Handsome Cabin Boy
2018 * BEL * Off Record Label * album 'Zappa Jawaka'
29:45   Nathan Fake – Providence
2017 * GBR * Ninja Tune * album 'Providence'
34:36   The Temper Trap – Sweet Desposition [Alan Wilkis Remix]
2010 * AUS * Infectious Music * album 'Conditions Remixed'
39:14   Three Trapped Tigers – Engrams
2016 * GBR * Superball Music * album 'Silent Earthling'
44:34   Bon Iver – 10 [Death Breast]
2016 * USA * Jagjaguwar * album '22, A Million'
47:39   Huerco S. – Prinzif
2013 * USA * Software * album 'Colonial Patterns'
53:22   The Tubs – Shakira 4 Belgium
2017 * BEL * Consouling Agency * album 'Happily Ever Jaded'
55:59   Radar Men From The Moon – Where Sky Meets Earth
2012 * NLD * Fuzz Club Records * album 'Echo Forever'
1:03:44   Daniel Avery – Quick Eternity [Four Tet Remix]
2018 * GBR * Phantasy Sound * 12" 'Quick Eternity'
Wunderkammer #037 (13.12.2018)
[mixcloud width=100% height=120 hide_cover=1]https://www.mixcloud.com/witkonijn/wunderkammer-2018-aflevering-037-13122018/[/mixcloud]
00:20   Annelies Monseré – Hold Music I
2018 * BEL * STROOM * album 'Happiness is within Sight'
06:19   Beraadgeslagen – Elektroliefje
2018 * BEL * W.E.R.F. * album 'Duizeldorp'
10:47   Crayon Sun – No More
2018 * BEL * Waste My Records * album 'Crayon Sun'
13:31   Cocaine Piss – Pretty Face
2018 * BEL * Hypertension Records * 12" 'The Pool'
16:23   Id!ots – Ma Guitare
2018 * BEL * Mayway Records * split 7" 'Ma Guitare (Id!ots)/Ma Guitare (Ugly Papas)'
20:22   Shht – 67
2018 * BEL * Gentle Recordings * album 'Love Love Love'
23:59   HOERA. – ⧂
2018 * BEL * granvat * 10" '≈'
30:13   Dans Dans – Waterpoort
2018 * BEL * Unday Records * album 'Dans Dans'
37:43   Steiger – And There They Stood
2018 * BEL * Sdban Ultra * album 'Give Space'
45:04   Oaktree feat. Pieter Nooten – Encounter
2016 * BEL * [PIAS] Recordings * album 'Dust'
52:35   Whispering Sons – No Image
2018 * BEL * S.M.I.L.E. * album 'Image'
58:07   Vibø – Clinical Death
1983 * BEL * Black & White * album 'One To Many'
1:02:37   Annelies Monseré – Happiness is within Sight
2018 * BEL * STROOM * album 'Happiness is within Sight'
Wunderkammer #036 (06.12.2018)
[mixcloud width=100% height=120 hide_cover=1]https://www.mixcloud.com/witkonijn/wunderkammer-2018-aflevering-036-06122018/[/mixcloud]
00:21   Film School – Harmed
2006 * USA * Beggars Banquet * album 'Film School'
03:35   Bobby Conn – Without You
1999 * USA * Thrill Jockey * ep 'Llovessonngs'
09:53   Yeasayer – Blue Paper
2012 * USA * Secretly Canadian * album 'Fragrant World'
14:54   Air – Dirty Trip
2000 * FRA * Record Makers * OST 'The Virgin Suicides'
21:27   Killdozer – 3/4" Drill Bit
1989 * USA * Touch And Go * album 'Twelve Point Buck/ Little Baby Buntin'
25:15   Ceramic Dog – Muslim Jewish Resistance
2018 * USA * Yellowbird * album 'YRU Still Here?'
30:58   Nordmann – The King
2017 * BEL * V2 Records * album 'The Boiling Ground'
38:27   Sickboy – Steal It With Style
2004 * BEL * Tigerbeat6 * album 'Shake Hands With A Clenched Fist'
42:09   Rusko – Woo Boost
2010 * GBR * Mad Decent * album 'O.M.G.!'
46:17   Second Storey – Chordelia
2014 * GBR * Houndstooth * album 'Double Divide'
52:18   Clutchy Hopkins & Fat Albert Einstein – Mojave Dervish
2017 * USA * Aural Tradition * album 'High Desert Low Tide'
57:31   Can – Smoke [E.F.S. Nr. 59]
1976 * DEU * Spoon Records * album 'Flow Motion'
Wunderkammer #035 (29.11.2018)
[mixcloud width=100% height=120 hide_cover=1]https://www.mixcloud.com/witkonijn/wunderkammer-2018-aflevering-035-29112018/[/mixcloud]
00:21   Kim Peers – In het bos daar staat een huisje
2004 * BEL * Haiku Records * compilatie 'Kapitein Winokio zag 1 Beer'
04:16   Syndrome – Now And Forever [I]
2013/2016 * BEL * Hypertension Records * album 'Now And Forever'
21:39   Explosions In The Sky – Disintegration Anxiety
2016 * USA * Bella Union/[PiaS] * album 'the WILDERNESS'
26:34   Siglo XX – Dreams of Pleasure
1983/2018 * BEL * OnderStroom Records * compilatie '[BOX]'
32:07   Clinic – I.P.C. Subeditors Dictate Our Youth
1999 * GBR * Domino Recording Company * album 'Clinic'
35:52   Syntheme – Wazpz
2009 * GBR * Planet Mu Records * album 'Lasers 'n' Shit'
40:24   Iglooghost – Yellow Gum
2017/2018 * GBR * Brainfeeder * compilatie 'Brainfeeder X'
43:34   Super Furry Animals – Slow Life
2003/2016 * GBR * BMG * compilatie 'Zoom! The Best Of Super Furry Animals [1995-2016]'
50:27   Commander Spoon – Introducing [Part III]
2018 * BEL * sdban ultra * compilatie 'Lefto presents Jazz Cats'
56:12   Alpha & Omega – Rootical Dub
2018 * GBR * Mania Dub * 10" 'Hands Up High/Rootical Dub'
59:41   Huelgas Ensemble – Qui Habitat
1995/2014 * BEL * Sony Music * album 'Utopia Triumphans [The Great Polyphony of the Renaissance]'
Wunderkammer #034 (22.11.2018)
[mixcloud width=100% height=120 hide_cover=1]https://www.mixcloud.com/witkonijn/wunderkammer-2018-aflevering-034-22112018/[/mixcloud]
00:20   Patrik – The Joymaker
1972 * BEL * Gamma Records / sdban * compilatie 'Discophilia Belgica'
03:44   Rival Consoles – Hidden
2018 * GBR * Erased Tapes Records * album 'Persona'
11:16   Stars Of The Lid – Even If You're Never Awake
2007 * USA * Kranky * album 'And Their Refinement Of The Decline'
21:27   Steve Reich – Megamix [Tranquility Bass remix]
1999 * USA * Nonesuch * compilatie 'Reich Remixed'
30:47   Alva Noto + Ryuichi Sakamoto – Trioon I
2002 * DEU/JPN * Raster-Noton * album 'Vrioon'
36:47   Rachid Taha – Jungle Fiction
1995 * FRA * Wrasse Records * album 'Olé, Olé'
40:47   System 7 – Alpha Wave [Alpha Mix]
1995 * GBR * Butterfly Records * 12" 'Alpha Wave'
47:35   Genecom – Polyphonic Raid
1995 * SWE * Fabric * compilatie 'Fabriclive 100'
50:47   Material – O.A.O.
1979/2018 * USA * Factory Of Sounds * compilatie 'SXL & Material – Temporary Music/One Down/Into The Outlands'
56:17   Magazine – Shot By Both Sides
1979/2000 * GBR * Mute Song/Virgin Records * compilatie 'Magazine… (Where The Power Is)'
1:00:25   Donder – Keukenpraat
2018 * BEL * W.E.R.F. * album 'Keukenpraat'
Wunderkammer #033 (15.11.2018)
[mixcloud width=100% height=120 hide_cover=1]https://www.mixcloud.com/witkonijn/wunderkammer-2018-aflevering-033-15112018/[/mixcloud]
00:21   Poltrock – 360
2018 * BEL * Poltrock Music * album 'Machines'
08:57   Razen – The Night Receptionist Part II
2018 * BEL * Meakusma * album 'The Night Receptionist Part I, II, III, IV.'
15:50   Atom™ – Colonel Bogey
2006 * DEU * Basta Music * compilatie 'STRP1: Reactions tot he Music of Dick Raaijmakers'
19:47   Kettel – Mukudori
2018 * NLD * Lapsus Records (Perennial Series) * album 'Myam James Part I [10th Anniversary Edition]'
22:35   Cornelius – Sometime/Someplace
2017 * Rostrum Records * album 'Mellow Waves'
27:11   Synthemes+ – Pussy Trap
2000 * BEL * Aim Records * album 'Imightaswell.'
32:25   Ishraqiyun (Secret Chiefs 3) – Base Phive Futur-Cossacks
2014 * USA * Web of Mimicry/Mimicry Recordings * album 'Perichoresis'
36:55   Vantomme – Double Down
2018 * BEL * Moonjune Records * album 'Vegir'
44:52   Word – Henry Man-she
1995 * BEL * Art Moves * compilatie 'Debuutrock '95'
46:56   Shoplifter – Hardcore Chillin'
1996 * BEL * Double T Music * compilatie 'Debuutrock '96'
51:05   Ozark Henry – Rosamund Is Dead
1996 * BEL * Double T Music * album 'I'm seeking something that has already found me'
57:40   Protomartyr – A Private Understanding
2017 * USA * Domino Recording Co. * album 'Relatives In Descent'
1:03:19   Liars – Murdrum
2018 * AUS * Mute * album 'Titles With The Word Fountain [TFCF Deluxe Edition]'
Wunderkammer #032 (08.11.2018)
[mixcloud width=100% height=120 hide_cover=1]https://www.mixcloud.com/witkonijn/wunderkammer-2018-aflevering-032-08112018/[/mixcloud]
00:20   Christina Vantzou – Small Choir
2011 * USA * Kranky * album 'No. 1'
04:55   Thom Yorke – Volk
2018 * GBR * XL Recordings * OST 'Suspiria'
11:17   Anne-James Chaton & Andy Moor – Metro
2013 * FRA * Unsounds * album 'Transfer'
16:45   Jóhann Jóhannsson – Part 1 / IBM 1401 Processing Unit
2006 * ISL * 4AD * album 'IBM 1401, a User's manual'
24:57   Venetian Snares – Slightly Bent Fork Tong v2
2016 * CAN * Timesig * album 'Traditional Synthesizer Music'
28:35   Dogon – Off On The Green Stuff
2001 * NDL * I-S-I-S Recordings * compilatie 'Constellation Report'
33:58   Hexstatic – Bass Invader [Kris Menace Remix]
2008 * GBR * Ninja Tune * compilatie 'Videos Remixes Rarities'
38:04   Tackhead – What's My Mission Now?
2006 * GBR * On-U Sound/EMI * album 'Tackhead Sound Crash – Slash & Mix by Adrian Sherwood'
40:11   Looplizard – Scream for Ibiza
2000 * BEL * Global Spliff * ep 'Summerdrive
45:47   Karibu Orchestra – The Airbender
2018 * BEL * eigen beheer * album 'Music over the Ruins'
52:12   Moses Boyd Exodus – Rye Lane Shuffle
2018 * GBR * Exodus Records * album 'Displaced Diaspora'
57:44   Vytas Brenner – La Sabana
2018 * VEN * Soul Jazz Records * compilatie 'Venezuela 70 volume 2 – Cosmic Visions of a Latin American Earth – Venezuelan Experimentel Rock in the 1970s & beyond'
1:02:11   Nusrat Fateh Ali Khan & Party – Barsoon Kay Intizar Ka [Waiting For Years]
2001 * PAK * Real World Records * album 'Body and Soul'
Wunderkammer #031 (01.11.2018)
[mixcloud width=100% height=120 hide_cover=1]https://www.mixcloud.com/witkonijn/wunderkammer-2018-aflevering-031-01112018/[/mixcloud]
00:20   GoDeviLLe & AJ-3-Delay – Trop Difficile (Te Moeilijk!)
1998 * BEL * S&S Productions/eigen beheer * ep 'Te Moeilijk! Te Moeilijk!'
07:41   Ovil Bianca – Full Endeavor
2001 * BEL * (K-RAA-K)³ * album 'Gravity=Love'
14:42   Klute – Autorama
2000 * GBR * Certificate 18 Records * album 'Fear of People'
21:11   Esplendor Geométrico – La Ciudad de los Héroes Rojos
1981/2009 * ESP * Captain Trip Records * album 'EG-1'
25:30   Emak Bakia – Voz de radio virtual en la casa de las afueras
2003 * ESP * Acuarela Discos * album 'Frecuencias de un Rojo Devastador'
29:50   Coppé featuring Hilothoshi – Void
2013 * JPN * Mango & Sweet Rice * album 'Void'
33:13   Senking – Chainsawfish
2013 * DEU * Raster-Noton * album 'Capsize Recovery'
39:10   Sonar – Counting Backwards
1998 * BEL/GBR * Daft Records * album 'Sonar vs Muslimgauze'
41:42   Throwing Muses – Counting Backwards
1991 * USA * 4AD * album 'The Real Ramona'
45:45   Joost Visser – Ukulele Bin
1995 * NLD * Brinkman Records * album 'Partners in Hair'
51:07   Falling Man – Daf
2013 * BEL * Matuchek Records * album 'Falling Man'
54:45   Mad Season – X-Ray Mind
1995 * USA * Columbia * album 'Above'
59:52   The Qualia – Better
2006 * USA * WTII Records * album 'Nevada's Greatest!'
1:07:17   David Sylvian & Robert Fripp – Darshan (The Road to Graceland)
1993 * GBR * Virgin Records * maxi-single 'Darshan'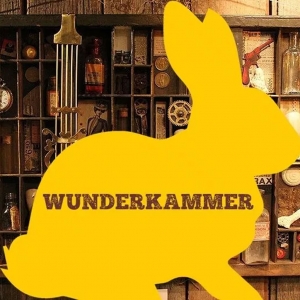 Welkom in Wunderkammer of het curieuze geluidenkabinet.
Laat je gidsen in deze wonderlijke, eigenzinnige, spannende en verrassende wereld vol geluiden, volgestouwd met bekende en onbekende muziek, grote namen maar ook veel aandacht voor aanstormend talent, los van genregrenzen en geen voer voor puristen.
De enige grens is degene die ontbreekt: volg de gids en reis mee van genre naar genre, van artiest naar artiest, van track naar track, …, met curiositeit in alle betekenissen: zowel rariteit, nieuwsgierigheid, merkwaardigheid, zeldzaamheid, …
Geen vakjes, geen duidelijk afgelijnde categorieën, geen hokjesdenken, … soms zelfs helemaal geen denken tout court…
Als het klinkt, dan klinkt het en zijn grenzen overbodig.
Van de nieuwste single van een popicoon met een hoek af (van de single of van het icoon?) over één van de eerste demo's van een toen nog onbekend talent tot albumtracks die op andere zenders onder de radar blijven.
Zowel voor de liefhebbers als de kenners, zolang ze maar openstaan voor wat op hen afkomt. En dat er wat op hen afkomt, daar mogen ze zeker van zijn…
Soms verfijnd, soms ongenuanceerd, maar steeds eigenzinnig en met de bedoeling luisteraars te verwonderen.
Wunderkammer met Pablo Smet als gids.
Deze curieuze geluiden kregen reeds een plaats in het Wunderkammer kabinet: